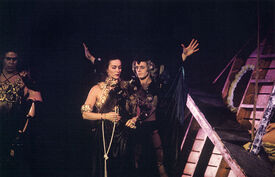 Description
Edit
Rhinegold is a musical by Jim Steinman and Barry Keating. It is based on the opera Das Rheingold by Richard Wagner. It ran from June 11-19 1973 at the Mercer Arts Center, and March 29-April 5 1975 at Playwrights Horizons.
Cast & Crew (1973 Mercer Arts Center production)
Edit
King of the Rhine - Craig Richard Nelson
Voglinda/Rhinemaiden - Barbara Korey
Velgunda/Rhinemaiden - Jessica Harper
Flosshilda - Ursuline Kairson
Alberich, a Nibelung - Andre DeShields
Wotan, King of the Gods - Roger Brown
Fricka, his wife - Ann Bardack/Mimi Kennedy
Freia, Goddess of Youth - P.J. Tomc
Fasolt - Craig Richard Nelson
Fafner/Giants - Chuck Oberlander
Froh, God of Youth - John Seidman
Donner, God of Thunder - John Mills
Loge, God of Fire - Tom Leo
Mime, Alberich's brother - Gregory Johnson
Erda, the Earth Goddess - Johanna Albrecht
Sea Creatures and Nibelungen - Kenneth Shippy/Mimi Kennedy
Director - Barry Keating
Music - Jim Steinman
Lyrics - Barry Keating

Choreographer - Wendy Wasserstein
Musical director/vocal arranger - Tom Willis
Costumes - Bosha Johnson
Lighting - Phillip A. Haultcoeur
Set - Frank Siciliano
Set pieces - Hope Auerbach
Hairstyles - Gordon of New York
Makeup - Kerry Fidler
Stage manager - Iris Olshin
Director's assistant - Mimi Kennedy
Master electrician - Radford Polinsky
Technical crew - Priscilla Davis
House staff - Susan Vare
Sound - Theatre Technology

Electronic score - Adrian Lo
Musical staging - Barry Keating
Pianist - Keith Musgrave

Cast & Crew (1975 Playwrights Horizons production)
Edit
It is not currently known who played which character.
Cast: Johanna Albrecht, George Ayer, Alan Braunstein, Sarah Harris, Mary Hendrickson, Pat Lavelle, Lester Malizia, Howard Meadow, Edwin Owens, Ellen Parks, Chuck Richie, Frank Thompson, Ron Van Lieu
Producer - Playwrights Horizons
Executive Director - Robert Moss
Book - Jim Steinman, Barry Keating
Music - Jim Steinman
Lyrics - Barry Keating
Production Coordinator - Kathleen Chalfant
Technical Director - Charles Tyndall
Music Director - Jez Davidson
Set Designer - Calvin Churchman
Costume Designer - Bosha Johnson
Lighting Designer - Jim Chaleff
Publicity - Joan Lowell
Stage Manager - Joel Brehm
External Links
Edit
Community content is available under
CC-BY-SA
unless otherwise noted.