Biography
[
]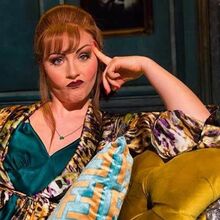 During her training at the Joop van den Ende Acadmey, Franziska Scuster made her debut in the English-language world premiere of Tut Ankh Amon - The Musical in Cairo and Alexandria. She created the role of Wally Neuzil in Egon Schiele - The Musical and was Belle in A Christmas Carol. As a soloist, she toured with Musical Fever and Musical Rocks! through Europe.
At the Gandersheim Catherdral Festival she has performed as Sally Bowles in Cabaret, as Constance in 3 Musketeers and in the title role of Evita on stage, for which she was honoured with the audience award for outstanding artistic achievements.
Other theatre credits include: Mary Robert in Sister Act, Sophie in Mamma Mia!, Ensemble in semi-concert versions of Jesus Christ Superstar and Messiah Rocks, as Constanze in Mozart! as well as Barbara Gerl and in the title role Eleonore in Stephen Schwartz' Schikaneder, Sara in Maria, he didn't like it! and as Nicole in Kinky Boots at the Stage Operetta House in Hamburg.
Before taking over the stage as Sloane in the German production of Bat Out Of Hell, Franziska was cast in the brand new open-air production Elizabeth in front of Schönbrunn Palace, Vienna. Showcasing her versatility, she recently shone as Mary Robert in Sister Act at the Freilichtspiele Schwäbisch Hall, as Josepha Vogelhuber in IM WEIßEN RÖSSL, lifting the Vulkaneifel Theatre Festival out of its cradle, and as Audrey in Little Shop Of Horrors in Hamburg.She was also a soloist in the musical revue Blue Moon.
Work with Jim Steinman
[
]
Franziska Schuster joined the cast of Bat Out of Hell The Musical when it opened for the German Production at Stage Metronom Theater in Oberhausen, on November 2, 2018, as Walk In Cover Sloane. When Willemijn Verkaik left the cast at the end of March 2019, Franziska took over the role of Sloane. She stayed in the role until the show closed on September 19, 2019.
On 16th June 2022 she took over the role of Sloane on the 2022 UK Tour, taking over from Sharon Sexton who left the show on maternity leave.