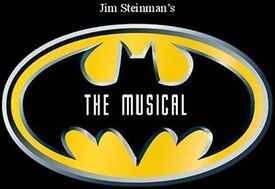 Description
Edit
In the 1998-2002 period, Jim Steinman worked on a musical based on the Batman comic book series, to have been titled Batman (of course) and produced by Warner Bros. Theatre Ventures, a new arm of WB aimed at competing with Disney, whose stranglehold on Broadway with such Disney Theatricals productions as The Lion King, Beauty and the Beast and Aida was and remains strong. David Ives was due to write the book, Steinman would of course contribute music and lyrics, and Tim Burton was reportedly chosen to direct, though he later downplayed his actual knowledge of the project.
An initial opening date was announced in 2001 when Steinman and Ives reportedly turned in a completed version to Warner Bros., only to fall apart in the mix. After the announcement of Burton's alleged hiring in 2002 (and a new claim from Steinman that work on the show was now only "70% done"), a new time-table was announced, with an out-of-town tryout opening in 2004 and a Broadway opening set for 2005. However, the project fell through before production was completed. Many people blame the production's apparent cancellation on the lack of success of Steinman's then-current Broadway venture Dance of the Vampires, which ended on a lesser note than planned, to put it mildly.
In 2006, following the release of Meat Loaf's Bat Out of Hell III: The Monster Is Loose, Steinman started a blog on his official website, through which he shared many of the Batman demos with his fans. Reports of his postings led to a brief news blitz claiming that the project was back on, but so far as is known, these reports are currently believed to be false.
External Links
Edit
Community content is available under
CC-BY-SA
unless otherwise noted.